Miami's five new-to-campus deans collaborate with veteran team of deans to move university forward
Provost Jason Osborne: "We have a team of exceptionally strong leaders in Academic Affairs, each of whom is working collaboratively to serve our students and our mission and to ensure that we are positioning Miami for future success."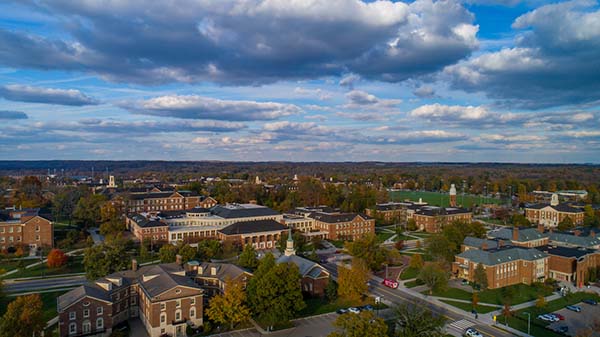 Miami's five new-to-campus deans collaborate with veteran team of deans to move university forward
By Margo Kissell, university news and communications
Miami University's five new-to-campus deans — four academic and an associate provost/dean working in the provost's office — have more in common than joining the university during the ongoing pandemic. They are focused on collaborating with longtime campus leaders to continue moving Miami forward from every corner of the university.
 "We have a team of exceptionally strong leaders in Academic Affairs, each of whom is working collaboratively to serve our students and our mission and to ensure that we are positioning Miami for future success," Provost Jason Osborne said.

​​These new deans join:
"The deans who have been here longer than the new deans have been extremely willing to share their insights about Miami," said Beena Sukumaran, professor and dean of the College of Engineering and Computing. "We work collaboratively on joint curricular offerings, extracurricular programming for our students, joint research, and outreach to the community."
Each new-to-campus dean has a particular focus:
Jenny Darroch, dean of the Farmer School of Business (FSB) and the Mitchell P. Rales Chair in Business Leadership, aims to maintain FSB's high return on investment for students and increase the number of women entering the business school.
Beena Sukumaran, professor and dean of the College of Engineering and Computing (CEC), is working to attract more diverse and underserved students, including women, to engineering and provide more support to students, staff, and faculty by broadening revenue streams.
Jason Lane, dean of the College of Education, Health, and Society (EHS), is determined to help Miami find new ways to thrive in a changing higher education environment and is gearing up to roll out some new initiatives to help with that.
Ande Durojaiye, dean of the Regionals, College of Liberal Arts and Applied Science (CLAAS) and vice president for the Regional Campuses, is focused on increasing access and improving retention.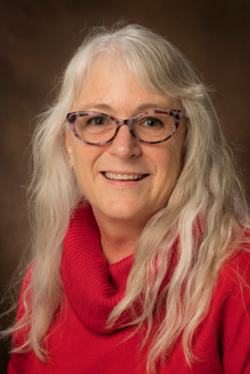 Amy Bergerson
The fifth new dean, Amy Bergerson — associate provost and dean for undergraduate education — has become a key partner to academic units and other divisions across all campuses, including Enrollment Management and Student Success (EMSS), Student Life, Global Initiatives, Advancement, student groups, diversity and inclusion, athletics, and more.
She is the newest dean, here five months. 
Bergerson joined Miami on Aug. 1, 2021, after serving as senior associate dean for undergraduate studies at the University of Utah in Salt Lake City and a professor in its department of educational leadership.
"The campus-wide commitment to students was one of the main reasons I wanted to come to Miami," Bergerson said, "and I see every day how powerful that can be as we try to think about how to do things in new ways, and how to build on the strong work that has been done here for decades to keep the university moving forward."
Two important goals are at the center of her work — improve upon Miami's already impressive retention and graduation rates and ensure that Miami undergraduates are having the best experience possible.
Some initial steps toward these goals include hiring three new Student Success Navigators, who will work primarily with new students still exploring majors, and developing Experiential Major Maps for Miami degree programs. These maps are a tool to help students determine what their overall experience at Miami could be.
Let's get to know the academic deans a little better, starting with Darroch — the first to join Miami during the height of the pandemic.
Jenny Darroch: First woman to lead as dean of Farmer School of Business
Darroch started on July 1, 2020, working remotely from California where she had served as dean of the Drucker Graduate School of Management at Claremont Graduate University.
She is the first woman to serve as dean of the Farmer School of Business and is working to level out its student ratio of 62% male to 38% female.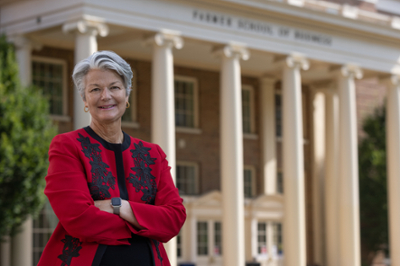 "The Farmer School has always skewed male. The good news is that we are slowly increasing the number of incoming first-years who are female," Darroch said. "I firmly believe that it is important to have women in positions of leadership at the school as a way of showing young women that they, too, can rise to positions of leadership in their chosen profession and to provide evidence that this is a school that will support female students."
She pointed to an example of change.
In 2016, the percentage of women majoring in Economics was below 20%. Three women faculty members embarked on a plan to make the major more diverse. They formed a student group called Women in Economics (WE@MU), where senior students and alumnae could mentor and support younger students. In addition, women faculty started teaching large introductory economics classes.
"Since that time, the department added three new women faculty to the department — so students actually see that the 'face' of economics looks like them," she said. Today, more than 40% of Business Economics majors at Miami are women.
Heading into 2022, Darroch's top priority as dean is to "stay ahead of our competitors and on excellent execution of our current strategy," which has FSB nationally ranked, including by Poets & Quants as No. 10 among public and private universities for early career Return on Investment.
FSB has implemented new ideas despite the ongoing pandemic, including:
Two new degree programs — the new MS in Business Analytics and the new online MS in Management (MSM).
A new Real Estate major, and Cybersecurity has been added to the Information Systems and Analytics major.
The miniMBA online professional education series, which drew nearly 7,000 alumni and 2,000 students.
"We took our MBA online and we see strong enrollment in this program for the current academic year," she said. "Our faculty went above and beyond as they stayed focused on student learning during the pandemic but experimented with new approaches to teaching and learning and trialed new technology to engage students in hybrid or remote learning."
Darroch now leads the "Beyond High Street" podcast, which spotlights her talks with Farmer School and Miami alumni about their time in Oxford, what they learned and how it shaped their careers.
"The Beyond High Street Podcasts were the brainchild of David Schwab ('94). He started the series as a way of connecting with alumni and learning about their career journeys and time at the Farmer School of Business. David recorded 97 podcasts over three years and decided it was time to pass the baton to the school," she said.
Darroch — whose first interview was with Schwab last March — generally tries to record one every other week.
"I love talking to people and finding out more about them, so I don't find them difficult to do. Plus, I have a lot of fun during the podcasts and have found it to be a great way to engage with our alumni."
Beena Sukumaran: First woman to lead College of Engineering and Computing
Sukumaran joined Miami on Aug. 1, 2020, after serving as vice president for research at Rowan University in Glassboro, New Jersey.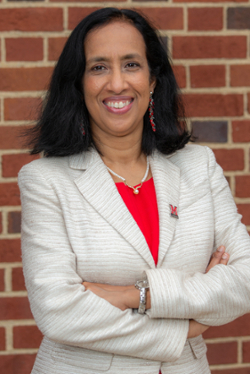 Because she and Darroch started in Oxford at the same time, they were roommates for two weeks. They forged a strong bond.
"Because we are good friends who shared a common experience during a challenging time, we meet regularly to share best practices and support each other," she said.
Sukumaran said being the first woman to lead the College of Engineering and Computing offers immense opportunities.
"Our students have the opportunity to see a woman of color and a first-generation immigrant leading the college. It prepares our students for what the future engineering and computing workforce looks like," Sukumaran said.
Today, there are 2,013 undergraduate and graduate students in CEC. Of those, 20% are women. That percentage varies greatly by major. Domestic students of color make up 14% of CEC, and the international student population also is 14%.
Sukumaran said an aspirational goal is to achieve gender parity and more students of color in the classroom.
"I would like to expand this pipeline and we are doing that through intentional outreach to urban and rural schools," she said. "Sometimes all it takes is someone telling young people to stay interested in science and mathematics because they can do really cool things with that knowledge when they come to college. It is also important to emphasize how engineering and computing is a force for good in society."
All deans at Miami are part of the Council of Academic Deans (COAD), which serves as an advisory body to the provost. Sukumaran said they meet as a team at least once a month socially to support each other through these challenging times and share their collective wisdom.
Jason Lane: 'We are a college of changemakers' in EHS
One of Lane's priorities is to continue to build local and national awareness of their top-notch educational programs.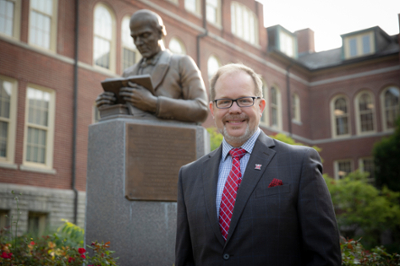 "We are a college of changemakers — people who want to make the world a better place — and we need to do more to tell our story and raise awareness of the opportunities available to those who join our academic community," said Lane, who started at Miami on June 1, 2021.
He was dean of the School of Education and professor of Educational Policy and Leadership at the University at Albany, State University of New York.
"One of our big new projects is launching the EHS Success Center, which will be a sort of one-stop shop for EHS students to pursue academic advising, learn about co-curricular opportunities, and learn about various supports in place to help them as they pursue their degree."
As part of this effort, the College of Education, Health, and Society is launching a new multi-generational mentoring program designed to provide EHS students from under-represented communities with academic, research, social, and financial supports to be successful at Miami.
This fall, leadership launched the Dean's Student Leadership Councils — one for graduate students and another for undergrads — to gather student input about future directions of EHS, particularly as it relates to the student experience. 
"We also kicked off the phase one renovation of Phillips Hall, which will start at the end of the spring semester and bring new state-of-the art lab and teaching spaces for our kinesiology, nutrition, and public health courses as well as relocate the KNH (Kinesiology, Nutrition and Health) departmental office," he said.
As they explore expanding graduate programs at Miami, Lane is continually assessing the marketplace.
"For many of the professions that our students pursue, the graduate degree is increasingly important for their preparation. We recently received approval for new master's degrees in Sports Analytics and Athletic Training," he said. "We're also assessing how we can strengthen existing programs."
For example, the Master of Social Work has historically been offered on the Middletown campus. Next year, they'll be offering it as a pilot on the Oxford campus to see if they draw enough interest, Lane said.
They have moved the Special Education and Transformative Education master's degrees online and are expanding stackable credentials such as graduate certificates in Child Life Specialists and Esports Management, which also count toward master's degrees. And they are continuing to look at new areas, including the possibility of expanding offerings in the mental health field.
Lane, who said Miami is one of the only universities in Ohio with increasing enrollment in teacher ed, is passionate about continuing to focus on meaningful partnerships that are mutually beneficial to the community and university.  
Some of those collaborations include working with:
Dean Beena Sukumaran to explore "new credentialing and research opportunities that cut across our divisions as the state looks to revise its computer science requirements for teachers."
Dean Chris Makaroff of the College of Arts and Science on how to foster greater collaboration between the Institute for Food in CAS and the Nutrition program in EHS.
Dean Ande Durojaiye "as we look to expand our offerings on the Regionals and build pipeline programs from local high schools to the regionals to EHS degrees."
Ande Durojaiye: Increasing access to the Regionals
Durojaiye started as dean of the Regionals on July 1, 2021, after serving as interim provost and executive vice president for academic affairs at Northern Kentucky University.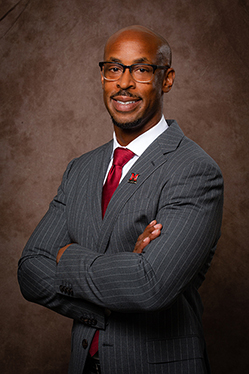 He was appointed vice president for the Regional Campuses in August and serves on the President's Executive Cabinet. He continues to represent CLAAS and the Regionals at all deans' meetings.
"We want to continue to build stronger pipelines for students to enter our campuses while ensuring they have the holistic support to promote success," Durojaiye said. "We are working on launching the university's first Early College Academy and are also working with a number of two-year partners around the state to increase our transfer pipelines."
He is excited about Moon Shot for Equity, an initiative he said will have a transformational impact not only on our campuses but across the region. 
"As we work collectively, we will create an educational ecosystem where anyone regardless of background can be successful," he said.
Durojaiye also believes the Regionals' Early College Academy can have a transformational impact on the region's educational attainment rates. 
"Providing strong pathways for low-income, first-generation and underrepresented students to access higher education will lead to long-term positive outcomes for our region."
He touched on the importance of innovation, such as programs like Work+, and prioritizing equity in his recorded "Accelerating Ahead" talk.
"Our most vulnerable populations (nationally) continue to be left behind in terms of educational attainment, career, and income. We, as educational institutions, need to prioritize serving all, rather than a select few. "
Work+ — the program started at the Regionals to give students the opportunity to earn a college degree for little to no out-of-pocket cost —  is vital to the development and retention of talent for our region, Durojaiye said. 
"In order to have the diverse and skilled workforce employers are seeking, we need to identify, train and retain our talented students," he said.